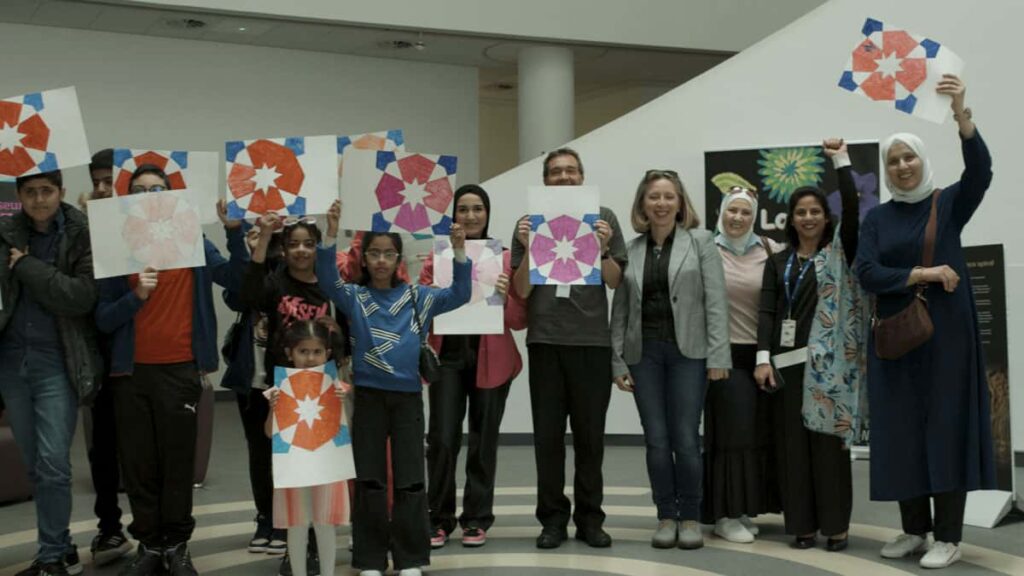 This project builds on work undertaken in 2021, Intangible Cultural Heritage: Syrians in the UK; Untold Stories, as the first integrative attempt to understand the ICH of displaced Syrians in the UK. Working alongside the Syrian–British Cultural Centre (S-BCC) and its associated Arabic School, the outcomes were celebrated in October 2021, Event explores cultural heritage of Syrians in the UK.
This project aims to explore how Syrians have settled in a British type of house turning it into a home that reflects their Syrian heritage.  It also aims to raise awareness about particular elements of the Syrian heritage via heritage education workshops with schoolchildren.
With massive displacement of Syrians, their heritage is facing eradication. Statistics shows that around 21,000 Syrians have resettled in the UK by 2021. While they left their built heritage, either destroyed or at risk, they have only carried their Intangible Cultural Heritage (ICH), presented in knowledge and socio-cultural practices. ICH plays a vital role in the resilience of its bearers, and it inevitably shapes the UK socio-cultural fabric; however, uprooted ICH has not, yet, been investigated in its new context.
This project aims to:
Collect and document ICH –traditions, knowledge and living expressions– of Syrians residing in the UK by creating an online digital repository.
The aim is to find out what, if anything, Syrians would have brought with them from Syria (e.g. photos, embroidery); and how would they set up home in a British type of house that reflects their Syrian heritage.
Raise awareness of Syrian heritage, through:
Establishing the repository including tangible and intangible heritage of Syria;
Developing knowledge of ICH via two carefully designed educational workshops with school children and their parents (Syrians and others): focusing on two key elements of craftsmanship 1) arabesque, which features in architecture e.g. traditional courtyard houses, as well as in small decorative items e.g. mosaic pieces; 2) Arabic calligraphy, which features in wall-paintings and decorations.
Raise awareness of the UK's heritage among Syrians, through:
Running the workshops at the National Museum of Liverpool combined with organised tours of selected venues;
Inviting the parents to participate alongside their children.
This workshop included similar activities to the online workshop last year, however, we worked on a different design to create a joint composition. 
The workshop aimed to celebrate traditional methods of classic geometrical design (Arabesque). It also aimed to provide an overview about the different ways in which Arabesque patterns have been used in the exterior and interior design of many buildings as well as in the decorations at homes.
The children participated, in person, enjoyed hands-on activities which enhanced their knowledge of the Syrian cultural heritage past and contemporary practices.
The workshop was proceeded by a tour in the museum to learn more about Liverpool and its history.
The children enjoyed the workshop which has also attracted some parents who joined us with the activities.
2 ) Arabic Calligraphy workshop
The second workshop was based on Arabic Calligraphy and we were joined by a professional calligrapher who assisted in many aspects of the workshop. Arabic calligraphy is currently on the UNESCO Intangible Cultural Heritage of Humanity list.
The fluidity of Arabic script offers infinite possibilities, even within a single word, as letters can be stretched and transformed in numerous ways to create different motifs.
We also had a guided tour in the museum to learn about ICH in Liverpool Liverpool's people and what they would have in their homes as represented in the Museum.
During our conversations with my fellow Syrians, I learned about their adventurous journeys to find a new home. The majority of the group I worked alongside came alone first and then their families followed.
Their journeys were not short of risks and uncertainty, as some travelled across the sea while others trekked through Europe before finally resettling in the UK.
Despite, the long journeys, they have kept simple, yet meaningful mementos to remind them of home.
Media, Publications, Talks, Exhibitions
Film
Workshop booklets
Celebratory public event
Academic Impact
Publications
Impact on Policy
Building
Socio-cultural Impact
Celebratory public event
Economic Impact
Impact on Professional Groups
Impact on Understanding, Learning and Participation
Workshops
The University of Liverpool
The Syrian-British Cultural Centre
The National Museums Liverpool
International Council on Monuments and Sites UK, ICOMOS-UK
Higher Education Innovation Funding (HEIF)
Research Development Initiative Fund, University of Liverpool, School of the Arts